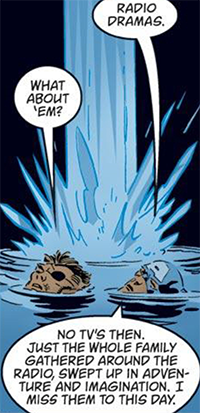 3/11/22 – 3/18/22
Everyone worked through major projects these past weeks, so we're going to reflect on what the class has accomplished. We've looked at writing on the web and the power of the hyperlink. We've worked with images, design and audio and considered their role in storytelling. We've looked at how we can use the web to work together to create stories. Going forward, we need to combine the skills we've developed and build on them.
Radio Shows Broadcasting Schedule
Sunday: Coroner's Tale & Death of the Painter
Monday: College Advice & Conspiracy Theories
Thursday: Bob Ross Radio Show & Why Do We Love Art?
This is another week for live ds106radio listening, but as fate would have it, it's also a week when I'm traveling to a conference. I'm working on a failsafe in case the hotel internet won't support broadcasting, but there is a chance that everything could go wrong on Monday. The radio shows that were created last week will be broadcast live on ds106radio (you can listen here) this Sunday, Monday and Thursday nights at 8:00 PM. Members of the groups should be on hand to talk about the behind-the-scenes work for their shows. If technology wants to cooperate (and that's a big if), I will offer people the opportunity to discuss their shows on air.
Everyone who can should be on Discord during the shows to share feedback real time using the #ds106radio channel.
Everyone should reflect on at least one radio show they listened to and were not a part of creating. Describe the experience of listening, the various sound elements employed, what parts worked, what parts didn't, etc. Be thoughtful, critical, and most importantly respectful. Also, reflect on the experience of listening to your own show with the rest of the class as an audience. Tag this radiolisten.
Looking ahead
In the weeks ahead, we will work on video, remix/mashup, final projects, and have a wrap-up week. We will see a lot of the work we've been doing come together. Concepts of design and storytelling, layering and editing, photography and sound production all play a part in video. You worked on a major collaborative project over these past two weeks. Historically, most people approach the group projects with trepidation, and most come away having enjoyed the experience. From what I've heard so far, that seems to hold true this semester as well. We can inspire each other when we bounce our ideas around and share our thoughts and creativity. So, if people want to work together on some projects, you have that option. Everyone has to do their part and blog about it individually, of course. You are also free to work independently.
We came up with some story outlines a few weeks ago. You may want to build on your ideas, or revise them, or come up with new ones. You may look for ways to connect them to our theme of Bob Ross and the joy of creativity, however you interpret it. But it would be good at this point to work on more meaningful stories, and move away from doing random and disconnected assignments. For your final project, coming up in a few weeks, you will have to produce a narrative using multiple digital media. What it is about is up to you. The project should be something that matters to you and is meaningful to a public audience – something that you are proud to share with the world. It might be a good idea to use the next few weeks to generate ideas that build towards your project. This week, blog about some potential final project ideas, including what you like about the ideas and how you might approach creating your narrative. Tag this projectideas. This week is comparatively light specifically so you can put some thought into this.
Connected Daily Creates
We've had a lot of great work on the Daily Create assignments, so we are going to try something a little different. Do at least three Daily Creates this week. After you've done them, look at them and find a way to tie them together in a story. You could put them together in one blog post, but if you can hyperlink them together, even better! That would mean constructing a story that jumps across media sites in a way that works as a single story. If you really can't make it work with the Daily Creates that come up, you can reach back to this past week, but no further. You can make it easy on yourself by starting early.
Revisit Your Work
This week, you should pick two assignments you've already completed and significantly revise them, improve upon them, or remix them with something else. This is an opportunity to spend more time on something you might have rushed through before or to bring a new twist to an assignment you've already done and enjoyed. Share your revised work and tell us why you reworked them, what you reworked, and how you feel about the process. Tag this ds106rework.
Posts of the Week: What is the best work of the ds106 class this week? Vote for the top three posts with this form. Don't vote for your own work though.
And of course, the usual commenting! And weekly summary.